During the COVID-19 pandemic, we are suspending all in-person library programs, including storytimes. However, we are offering virtual storytimes through Zoom and Facebook Live from late-August through May. Please follow us on Facebook to keep up with our programs. You may also watch for articles on fortscott.biz concerning our upcoming virtual programs. We look forward to serving you again when the library reopens to the public. See below for a virtual programming calendar, which you can follow to watch live storytimes from all over the globe!
Looking for books by a specific author but don't know or want to think up which titles to choose? Let us be your personal book shoppers! Just call 620-223-2882 and tell us you'd like us to do a 10 book grab for you! Tell us your library card #* and the author's name, and we'll pick out 10 books by them!**
*Active, unrestricted library account required with us or a SeknFind library.
**If not enough books are available from us, we may order some from other libraries by that author, choose books by similar authors to make up the difference, or choose as many as we can, up to 10.
Book Bags
Miss Val curates book bags containing 10 books each by topic for you to check out! To get one, you must have an active library card with a non-restricted account in SEKLS, or with Fort Scott. Miss Val also creates book bags that go with the storytime weekly themes. Bags are separated into two age groups: Birth – 1st Grade and 2nd – 5th Grades. Current topics are: Boys' or Girls' General Interest, Cats & Dogs, Character Building, Classics, Community Helpers, Dinosaurs, Disney, Dragons, Fall, Families & Vacation, Fantasy, Farm, Food, Jungles, LEGO, Magic, Ocean, Pajama Party, School, Silly Stories, Sports, Star Wars, Summer, Superheroes, Vehicles, and Zoo Animals. To order a book bag, call 620-223-2882 or message the library or email Miss Val. Be sure to let us know both age groups and topics you want. There is no limit on how many bags you may order at one time.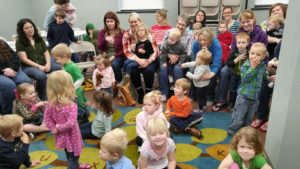 Storytime:
Storytime is offered virtually on Tuesdays at 10 am for the foreseeable future. We create themed storytime packets, which are available for curbside pickup to pre-registered families. Storytime is available as both a live event on Zoom and a pre-recorded video on both our Facebook page and YouTube channel. Want to pre-register for a storytime bag? Email Miss Val. Suggestions for future themes are welcome – take the poll here.

Books:
Did you know that Miss Val makes a list each month of new children's books and audiobooks added to our collection? View them here.
1000 Books Before Kindergarten