During the COVID-19 pandemic, we are suspending all in-person library programs, including storytimes. However, we are offering virtual storytimes through Zoom and Facebook Live from late-August through May. Please follow us on Facebook to keep up with our programs. You may also watch for articles on fortscott.biz concerning our upcoming virtual programs. We look forward to serving you again when the library reopens to the public. See below for a virtual programming calendar, which you can follow to watch live storytimes from all over the globe!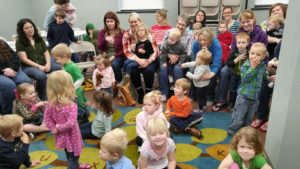 Storytime:
Tuesdays and Wednesdays at 10 a.m. in our downstairs event room. A typical storytime includes Miss Val reading 2 – 3 books, 1 – 2 group songs or fingerplays, craft or activity, snack, and play table. Themes are based on the favorite themes of young patrons as well as seasonal and holiday themes throughout the year. Suggestions for future themes are welcome – take the poll here. Storytime will end for the summer on May 29 and resume in mid-August, replaced by summer reading June – early August.

Upcoming Events:
Summer Reading: Please see our summer reading page for full details. We usually meet Tuesdays and Wednesdays at 10 a.m. at the library. The program runs from June – early August.
Books:
Did you know that Miss Val makes a list each month of new children's books and audiobooks added to our collection? View them here.
1000 Books Before Kindergarten