Oceans of Possibilities
Want to Volunteer for or Donate to our program? Click here.
Splash into Summer at Gunn Park Shelter House #3 with a kickoff party for the whole family on June 1, 10 – 11:30 am! 6th-12th grades are invited to our Teen Kickoff Party at Riverfront Park, June 1 from 4-5 pm. Attendees are strongly encouraged to bring towels and to wear casual clothing that can get wet and dirty! You may also want to bring a change of clothes. Remember the sunscreen too!
Be advised: Parking around the shelter house and bathroom facilities are limited. Please plan ahead for parking and walking to the party area and for restroom breaks.
Performances:
Musician Alan Cunningham returns to Fort Scott to sing his original songs on June 14 at 10 am.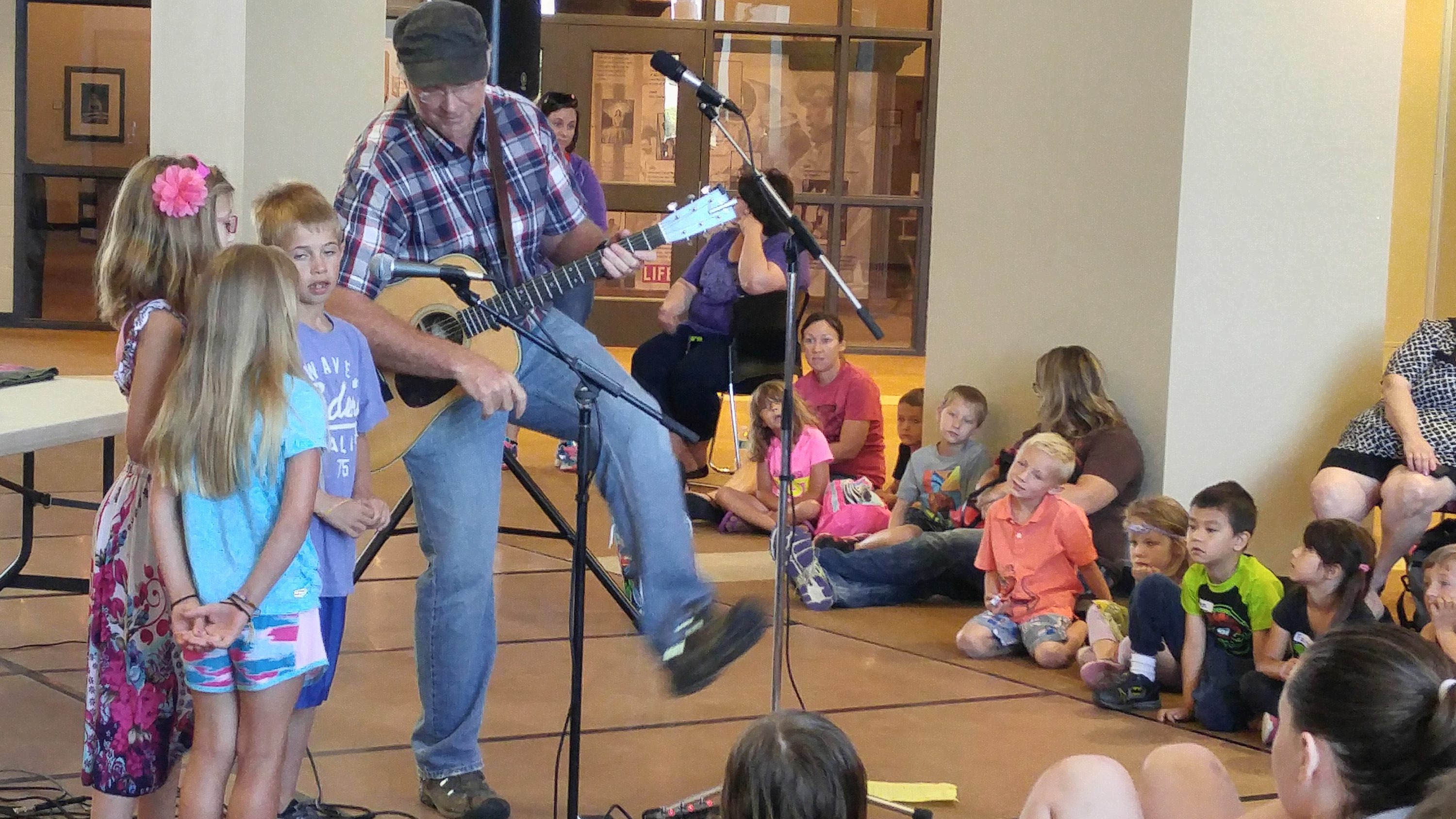 Magician & Juggler Brian Wendling will show off his talents on June 28 at 10 am.
Storyteller Priscilla Howe brings back her batch of puppet friends and loads of fun on July 12 at 10 am.
All performances will be held in the main auditorium of Memorial Hall, next door to the library.
Regular Meeting Schedule (subject to change without notice, depending on local health and weather conditions):
In-Person Kids' Meetings: Tuesdays at 10 am (we will not hold regular meetings during performance weeks)
Online (pre-recorded) Kids' Meetings: Thursdays at 10 am on Facebook (in our private FSPL Families group) and on YouTube (unlisted – contact Miss Val or register to receive the link)
6th-12th Grade Meetings: Wednesdays at 4 pm. We will hold a combination of virtual and in-person meetings. Watch our schedule to see our planned events.
Parties:
Pirate Party – June 13 at 4 pm at the library — Pre-registration required; Click here to register.
Mermaid Party – June 27 at 4 pm at the library — Pre-registration required; Click here to register.
Shark Party – July 11 at 4 pm at the library — Pre-registration required; Click here to register.
The calendar below and our Facebook events page will have listings for all summer reading events.
Please contact us at (620) 223-2882 or email Miss Val at vcyouthlib@gmail.com with any questions. To check out our latest event news, see our Facebook Events Page.
Covid-19 and General Health & Safety Measures
To ensure the health and safety of the public and our staff, please be aware of the following measures and make plans accordingly. If you or anyone in your household is sick or is experiencing severe covid-19 symptoms, please keep them home until they are well. You may participate in our virtual program while your family is under quarantine, isolating, on vacation, etc. If you cannot safely pick up items at the library, please send someone else to get them and leave them at your door. If you or anyone in your household is experiencing mild issues which are on the list of covid-19 symptoms, please wear a mask and social distance from other families. We do not charge late fees. Please do not return library items while you are sick.
When possible during regular library programs, please practice social distancing, hand-washing, and other CDC-recommended mitigation measures, including sanitizing hands when hand washing is not available.