Upcoming Events: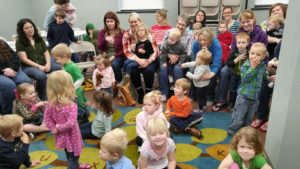 Storytime: Tuesdays and Wednesdays at 10 a.m. in our downstairs event room. A typical storytime includes Miss Val reading 2 – 3 books, 1 – 2 group songs or fingerplays, craft or activity, snack, and play table. Themes are based on the favorite themes of young patrons as well as seasonal and holiday themes throughout the year. Suggestions for future themes are welcome – take the poll here. Come see what we have planned for this week!
National Picture Book Month: Read picture books this month and enjoy some of the best of what children's literature has to offer! Picture books are perfect for classroom read-alouds, bedtime stories, car rides, family storytimes, a quick giggle, and so much more!
National Novel Writing Month: During the month of November, stop by our writing station at the children's area front counter to write a story, poem, or illustrated wordless book. Create your story and take it home or drop it off downstairs with Miss Val for possible display.
Holiday Party:
December 18, 4-5:30 p.m.: Celebrate the holiday season at your library with fellow community members! We will read as a group and then break off for separate games and crafts geared toward different age groups. Refreshments will be served. Bring the whole family; teens will have games designed for them. Keep an eye on our Facebook events page and our library calendar so you won't miss another exciting program at your library!

 Did you know that Miss Val makes a list each month of new children's books and audiobooks added to our collection? View them here.