Upcoming Events: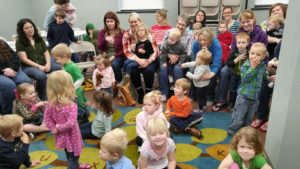 Storytime: Tuesdays and Wednesdays at 10 a.m. in our downstairs event room. A typical storytime includes Miss Val reading 2 – 3 books, 1 – 2 group songs or fingerplays, craft or activity, snack, and play table. Themes are based on the favorite themes of young patrons as well as seasonal and holiday themes throughout the year. Suggestions for future themes are welcome – take the poll here. Come see what we have planned for this week!
StoryWalk®: StoryWalk is up and ready for visitors! Read and walk with your child(ren) to a different story each week in October! Also great for school and daycare groups! You can find the parent guides inside the library during business hours or anytime online and the survey online here. This week's book is Just Shopping with Mom by Mercer Mayer.
Star Wars Reads Day: October 9, 9 am – 5 pm: Share your love of all things Star Wars with fellow fans while celebrating the books that continue to expand and enliven the series. Our event will include elements from
our May the Fourth celebration, including movie showings, puzzles, games, trivia, worksheets, crafts, snacks, and books! Costumes are encouraged, however weapons are not permitted. May the Force bring you to the library to read with us!

Jumpstart's Read for the Record: Read Quackers by Liz Wong with Miss Val and over 2 million worldwide participants in this event aimed toward early literacy program awareness. After reading we will share an activity and a snack. Join us on October 19 at 4 p.m. in the library Event Room!
Holiday Party:
December (Date TBA): Celebrate the holiday season at your library with fellow community members! We will read as a group and then break off for separate games and crafts geared toward different age groups. Refreshments will be served. Bring the whole family; teens will have games designed for them. Keep an eye on our Facebook events page and our library calendar so you won't miss another exciting program at your library!

 Did you know that Miss Val makes a list each month of new children's books and audiobooks added to our collection? View them here.